December 27, 2010
Two Binky Adventures by Ashley Spires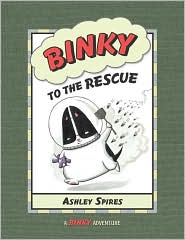 Grades 1 and up
How many of you have cats at home? Do they ever act weird? Probably not as weird as Binky.
You see, Binky is a little…. Well, let's just say he's a little confused. (It's nicer to say it that way.)
But let's start from the beginning.
Today, Binky FINALLY got a letter from the Felines of the Universe Ready for Space Travel ROCKET SHIP. (F.U.R.S.T. for short) The only problem with that is Binky has never ever been outside of the space station he calls home. Outer space just isn't safe for ordinary cats – but Binky is not just an ordinary cat anymore. He is an officially certified Space Cat, sworn to protect his humans from alien invaders and travel the galaxy. Read about Binky's preparations for space travel in Binky the Space Cat and the second thrilling Binky adventure, Binky to the Rescue.
Check the availability of Binky the Space Cat.
Check the availability of Binky to the Rescue.
Other books by Ashley Spires.
Posted by Emily at 02:46 PM | Comments (0)
October 27, 2010
Smile by RainaTelgemeier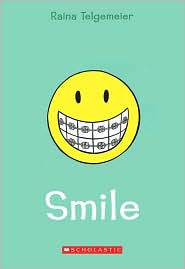 Grades 4 and up
Getting braces stinks, there's no doubt about it. What is even worse is tripping and falling down, thinking you're okay with nothing broken… until you see your TWO FRONT TEETH lying there on the asphalt.
So begins Raina's epic dental adventure.
Smile isn't just a graphic novel about dental problems, it's a comedy of dental errors, a coming of age story, and a great read for entering middle schoolers and middle schoolers alike.
Check availability of Smile .
More books written by Raina Telgemeier.
Posted by Emily at 11:32 AM | Comments (0)
September 16, 2010
Crogan's Vengeance by Chris Schweizer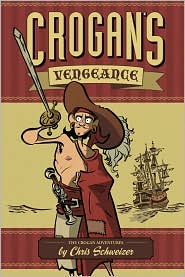 Reading Level: Grade 7+
While taking a forbidden shortcut through an elderly neighbor's yard, Eric's companion kicks over a birdhouse and leaves Eric to take the blame prompting Eric's father to tell Eric the bloody story of one of their ancestors, Catfoot Crogan, who was forced to make many difficult decisions while serving under a vicious captain.
This is the first in the graphic novel series about the swashbuckling Crogan family.
Check availability of this book.
Other books by Chris Schweizer
Posted by Stephanie at 06:42 PM | Comments (0)
August 21, 2010
Refresh Refresh by Danica Novgorodoff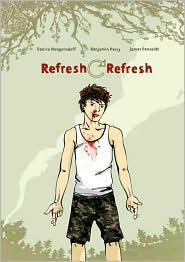 Grades 8 and up
Cody, Josh, and Jordan's fathers have all been shipped to Iraq. With no father figures in their homes, the boys start a wrestling group in one of their backyards, sneak into bars to drink, smoke, and pick up older women – but none of these 'manly' activities make the boys feel any closer to their father. Each boy spends a good portion of each day at their e-mail inboxes, clicking refresh over and over again, waiting to hear from their fathers.
This dramatic and painful coming of age graphic novel is not for the faint of heart.
Check availability of Refresh Refresh.
Other books written by Danica Novgorodoff.
Posted by Emily at 02:40 PM | Comments (0)
April 27, 2010
The Secret Alliance and the Copycat Crook by Eleanor Davis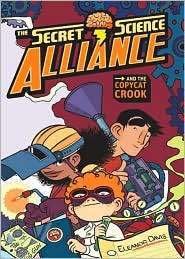 Reading Level: Grades 3-5
When the new kid, nerdy genius Julian Calender is befriended by Ben, a "dumb jock" and Greta, a girl with a reputation as a "dangerous maniac", they form the Secret Science Alliance. Deep in their underground laboratory they work on fantastic inventions. The Alliance must spring into action when the nefarious Professor Stringer steals their invention notebook to use their inventions for evil.
If you enjoy this fantastic graphic novel caper try:
Mail Order Ninja by Joshua Elder
From Zero to Hero by Jeremy Diamond
and Stone Rabbit by Eric Craddock
Check availability of this book.
Posted by Stephanie at 09:43 AM | Comments (0)
April 22, 2010
Meanwhile by Jason Shiga
Reading Level: Ages 8-12
Have you ever thought about reading 3,856 stories before? Maybe. Have you read that many stories in your lifetime? Probably not. But if you check out Jason Shiga's new graphic novel, Meanwhile, you will. All you have to do is decide… chocolate or vanilla?
Check availability of Meanwhile.
Other books by Jason Shiga.
Posted by Emily at 03:18 PM | Comments (0)
April 14, 2010
Invasion of the Relatives by Alexander Stadler
Reading level: Grades 3-5
Disguised as a nine-year-old Earthling boy, Federation first officer Julian Rodriguez is tested to his limits when the parental units insist he shed his protective Federation uniform, fraternize with genetically linked mini-brains and eat barbarically stuffed bird.
If you enjoy this laugh-aloud graphic novel try Frankie Pickle and the Closet of Doom by Eric Wight.
Check availability of this book.
Other books by Alexander Stadler

Posted by Stephanie at 03:30 PM | Comments (0)